By Michelle Gellis LAc MAc DiplAc. Licensed Acupuncturist
Nationally Accredited Facial Acupuncture Instructor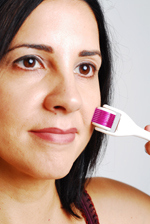 President, Acuhealing LLC-Aculift Derma Roller™
Collagen induction therapy via the use of micro-needling devices has become more popular over the few years. Traditionally, wounding the skin – by chemical peel or laser- has been the only way to jump start collagen production and rejuvenation. Micro-needling devices, such as derma rollers has advantages over these treatments: it causes less damage to the skin, and it can be repeated often without creating the red, irritated skin of peels or lasers. Additionally, micro-needling has a lower risk of infection, hyperpigmentation or long-term damage. Micro-needling works by creating micro wounds in the skin, which triggers the body, to fill in they tiny holes with collagen whiles leaving the epidermis intact.
Several studies conducted on at home micro-needling devices have found amazing results: a 30 percent reduction in wrinkles with just a minute of use 3 times a week for 30 days. * Additionally, micro-needling devices have been shown to increase the absorption rate of skin care products. In order for an in home device to be effective the needles must be long enough to effect the dermal layer, the layer below the epidermis. The ideal length is between .5mm-1.0mm depending on the area of the face and the age of the skin. Furthermore, the roller should have a minimum of 500 needles in order to cause the least amount of pain. (More info can be found at: http://www.aculiftdermaroller.com/FAQ.html)
Micro-needling has become so popular, that many dermatologists and spas office now offer an amped up version, which involves the use of device which has much longer needles (up to 3.0mm) powered by electricity. These treatments typically require numbing cream due to the longer needles and pain involved, and usually cause bleeding, swelling and downtime.
One might theorize that the longer needles used in professional treatments would be more effective than the sorter ones used in at home devices in stimulating collagen. However a study published in the journal of Plastic and Reconstructive Surgery shows that collagen formation isn't dependent on needle length, and that the best results occur with regular micro needling. An analogy might be exercising…it is better to go to the gym every other day for a year and lift moderate weights than twice a year and lift heavier weights.
Micro-needle devices are much less expensive than professional treatments as well. A typical derma roller ranges in price from $20-$200 with a 4-6month shelf life. Professional treatments, run about $1,000-$3,000 for a series.
For cost, convenience and least amount of downtime, at home micro-needling through the use of a derma roller such as the AcuLift™ Derma Roller offers many benefits to Dr. office or spa treatments.
*For information on clinical studies visit: http://www.aculiftdermaroller.com/Skin-Conditions.html